Complete Streets for the Richmond Region
Ashland Complete Streets Pilot Project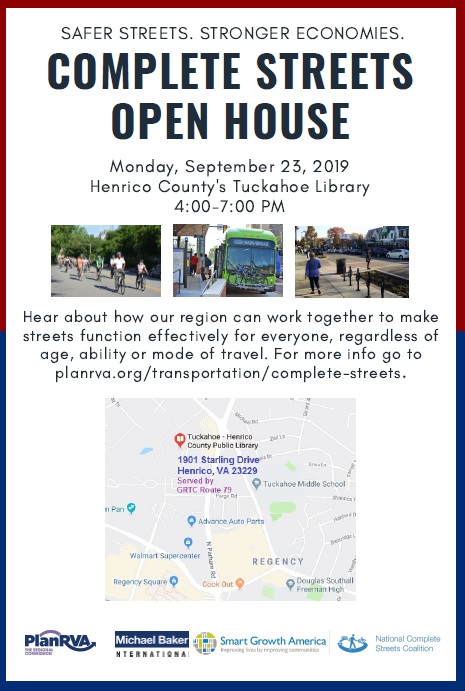 Complete Streets: Safer Streets/Stronger Economies
OPEN HOUSE FORMAT
Spend an hour learning with us about Complete Streets
Top of every hour at 4:00, 5:00, and 6:00 p.m. Please let us know if you can come.
Overview of Complete Streets - Emiko Atherton, Smart Growth America
Break-out stations for hands-on exercises for Urban, Suburban, and Rural areas
Complete Streets: Safer Streets/Stronger Economies will be the focus of a public open house on Monday, September 23, 2019 from 4-7 p.m. at Henrico County's Tuckahoe Library. Facilitated by Smart Growth America and Michael Baker International, and PlanRVA, the open house will provide the general public, TPO Policy Board and committee members the opportunity to review recommendations for undertaking a more comprehensive process for implementing complete streets practices in the Town of Ashland and the region.
Due to its urban, suburban and rural character, the Town of Ashland has served as the pilot community, contributing to a comprehensive region-wide analysis of specific design practices and principles that make a street function effectively for all users and modes of travel. TPO staff will use the findings from this pilot project to create a complete streets tool kit for the region's localities to consider as they plan, design and maintain their travel networks.
LOCATION:
Tuckahoe Public Library
1901 Starling Drive
Henrico, VA 23229
Complete Streets are designed to facilitate safe access for pedestrians, bicyclists, motorists and transit riders of all ages and abilities. They make it easy to cross streets, walk to retail areas and travel to work. They also allow buses to run on schedule and make it safe for people to travel to and from train stations.
When creating Complete Streets, transportation planners and engineers must design and operate the entire right of way to enable safe access for all users, regardless of age, ability or mode of transportation. Complete Streets make the transportation network safer for drivers, transit users, pedestrians and bicyclists.
Learn more: Smart Growth America's Introduction to Complete Streets
More info & links:
Complete Streets - Ashland Pilot