Transportation Improvement Program
The TIP is the region's collaborative list of transportation investment priorities. This list includes all projects which are federally funded, along with non-federally funded projects that are regionally significant. It is a federal requirement that all MPO's develop and maintain a TIP. Projects include highway and transit projects, as well as bicycle, pedestrian, airport access, rail, and freight-related projects.
Overall the TIP is an obligation document. Obligations are a commitment from the federal government to reimburse the state for the federal share of a project's eligible costs. Once a project is in the TIP a project or project phase is authorized in a federal agreement under which Federal Highway Administration (FHWA) or Federal Transit Administration (FTA) commits to reimburse the state for a share of eligible costs.
Each project in the TIP must include; a sufficient project description (type, termini, length, etc.), an estimated total cost, the amount of federal funding proposed for obligation during each program year, and the identification of the project administrator.
All TIP's developed in the Commonwealth of Virginia are combined into the Statewide Transportation Improvement Program (STIP). After approval of the TIP, all revisions to the TIP must also be recorded in the STIP. Approved TIP documents are submitted to the FHWA and the FTA for review and acceptance.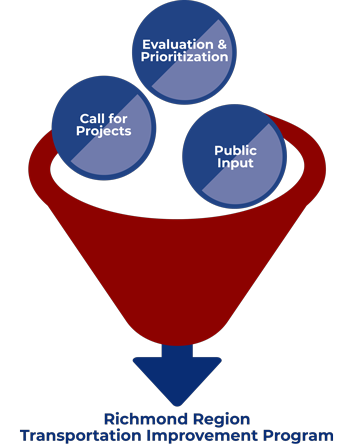 TIP and Related Documents
The RRTPO development and maintenance of a TIP is required by federal law for the region to receive and spend federal transportation dollars. Federal law also requires that the RRTPO TIP be combined with the TIPs of the other MPOs in the Commonwealth of Virginia to become the Commonwealth's STIP. The production of the TIP is a peak of the transportation planning process and represents a consensus among state, regional, and local officials as to projects selected for implementation. Consensus is important because the federal and state governments want assurances that all parties have cooperatively developed priorities before committing funds to a project. A project's inclusion in the TIP signifies regional agreement on the priority of the project and establishes eligibility for federal funding.
How to read the TIP: Project Page Key
VDOT UPC (Universal Product Code): A number assigned to each project from start to completion.
System: Each project is assigned one of six system categories such as interstate, Primary, Secondary, Urban, Enhancement, and Miscellaneous
Phase: Indicate the type of work to be paid for with federal funds (PE: Preliminary Engineering, RW: Right-of-Way, CN: Construction).
Total Cost: The best estimate available for a project.
Obligation: Indicates, by fiscal year, the amount of federal funds needed to complete phases of a project.
Fund Source: Indicates each federal or other fund sources for the project (the TIP contains an acronym guide to identify fund sources)/.
Match: Indicates the required state and/or local matching funds needed to obtain the federal dollars.
Plan2040 Goal Icons: Indicates which plan2040 goals the project helps achieve for the region.