Long Range Transportation Plan
A long-range transportation plan (LRTP) is used to guide a region's planning while reflecting the vision and goals of the region. The vision for transportation in the Richmond Region is a system that will reliably and safely connect people, prioritize equitable opportunities for all, promote a strong economy, and respect our natural resources.
Under Federal law (23 USC 134: Metropolitan transportation planning), the plan must be "financially constrained," meaning only revenues that can be reasonably expected can be considered in funding the recommended projects within the LRTP.
The RRTPO develops this long-range strategy to guide the effective investment of public funds for multi-modal transportation infrastructure throughout the Richmond Region. The plan is federally mandated to cover at least the next 20 years. The RRTPO creates a 25-year plan and updates it every five years.
ConnectRVA 2045 is RRTPO's latest long-range transportation plan.
ConnectRVA 2045: Our Region's Long-Range Transportation Plan
Based on data and years of public input, ConnectRVA 2045 outlines more than 200 regional projects to support the growth of the Richmond Region. The final plan and its associated technical reports include:
• Public engagement process for developing the ConnectRVA 2045 plan
• Transportation vision, goals, and objectives for the Richmond Region
• Census-based adjustments to population, employment, and travel data
• Update of the travel demand model to identify current and future deficiencies in the road network
• Safety, efficiency, and connectivity of the multimodal transportation network
• Technology acquisition and partnership strategy in support of performance-based planning
• Proposed system improvements
• Prioritization of projects
• Development of a fiscally constrained project list
• Financial analysis and projected timing for project development
The RRTPO Board adopted ConnectRVA 2045 at their October 4, 2021 meeting.
What is a Long-Range Transportation Plan?
Describes the vision for the region and policies, operational strategies and projects to move toward that vision
Covers at least the next 20 years
Supports an intermodal system
Reflects public engagement
Includes a financial plan and is fiscally constrained
Is updated every five years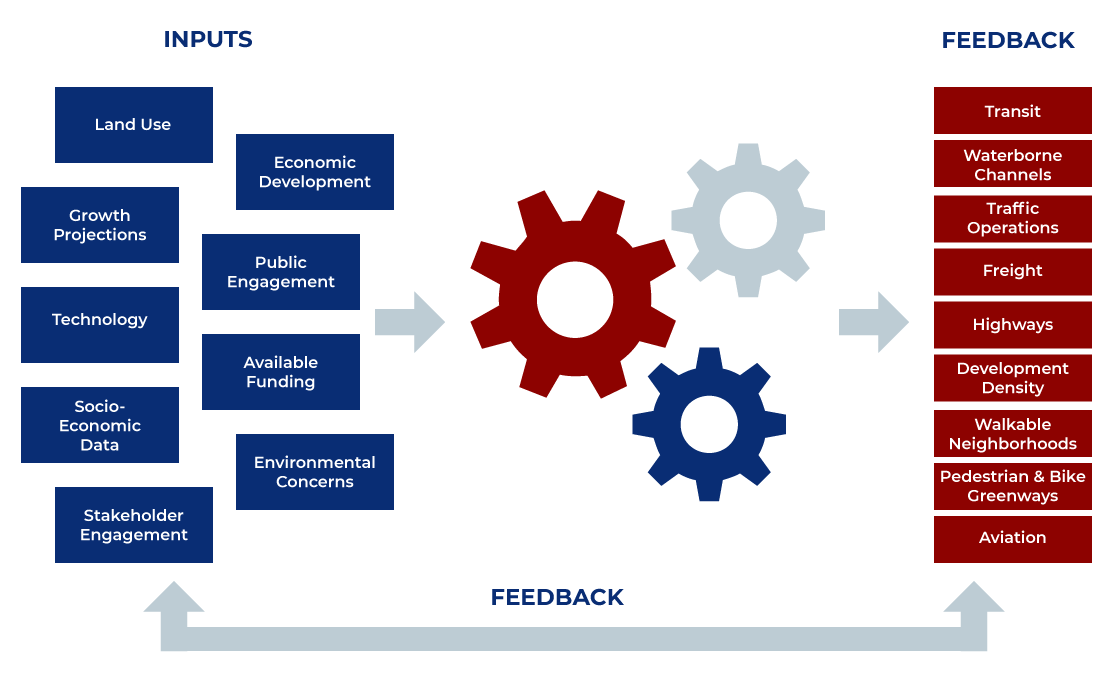 Key Steps in the Long-Range Planning Process
Vision & Goals
Objectives
Problem Identification
Alternatives
Analysis & Evaluation
Plan Approval
Program Development
Initiative Development & Operation
Performance Monitoring