Federal & State Requirements
Long-range transportation planning is guided by federal regulations and statutes. These include factors of the planning process and basic components the plan should consider. Current transportation authorizing legislation and statewide planning processes incorporate performance goals, measures and targets in the process of identifying needed transportation improvements and projects.
In 1962, Congress established requirements that transportation planning in the United States be conducted in a "comprehensive, continuous, and coordinated" manner (the 3-C Process). The Federal Aid Highway Act of 1973 mandated the creation of Metropolitan Planning Organizations (MPOs) in each urbanized area with a population of 50,000 or more.
The Moving Ahead for Progress in the 21st Century Act (MAP-21), enacted in 2012, included provisions to make federal surface transportation more streamlined, performance-based and multimodal, and to address challenges facing the U.S. transportation system, including improving safety, maintaining infrastructure condition, reducing traffic congestion, improving efficiency of the system and freight movement, protecting the environment, and reducing delays in project delivery.
FAST Act (Current Authorization)
In 2015, the Fixing America's Surface Transportation Act (FAST Act) was passed. The FAST Act funds surface transportation programs and is the first long-term surface transportation authorization enacted in a decade that provides long-term funding certainty for surface transportation.
Setting the course for transportation investment in highways, the FAST Act:
Improves mobility on America's highways
Establishes and funds new programs to support critical transportation projects to ease congestion and facilitate the movement of freight on the Interstate System and other major roads
Creates jobs and supports economic growth
Authorizes funding for road, bridge, bicycling and walking improvements
Includes a number of provisions designed to improve freight movement
Accelerates project delivery and promotes innovation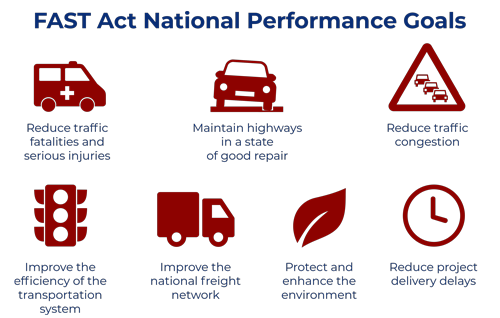 Virginia's goal is to ensure that the transportation system is safe, enables the movement of people and goods, enhances the economy, and improves quality of life. Virginia's SMART SCALE program (§33.2-214.1) provides a method of choosing the right transportation projects for funding to ensure the best use of limited tax dollars. The program has a standardized, data-driven method of scoring and prioritizing planned projects. Transportation projects are scored based on an objective, outcome-based process that is transparent to the public and allows decision-makers to be held accountable to taxpayers. Once projects are scored and prioritized, the Commonwealth Transportation Board (CTB) has the best information possible to select the right projects for funding.
On February 21, 2018, the CTB passed a resolution adopting a corrected policy and approving the guide for implementation of the SMART SCALE Project Prioritization Process. SMART SCALE requires that projects be evaluated for Safety, Congestion Mitigation, Accessibility, Environmental Quality, Economic Development and, in areas with more than 200,000 people, Land Use and Transportation Coordination.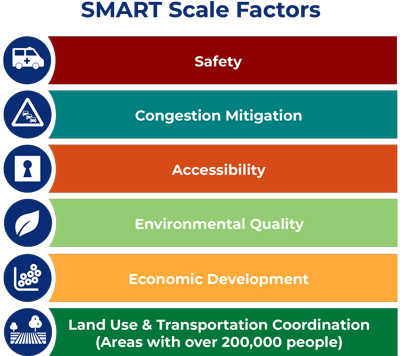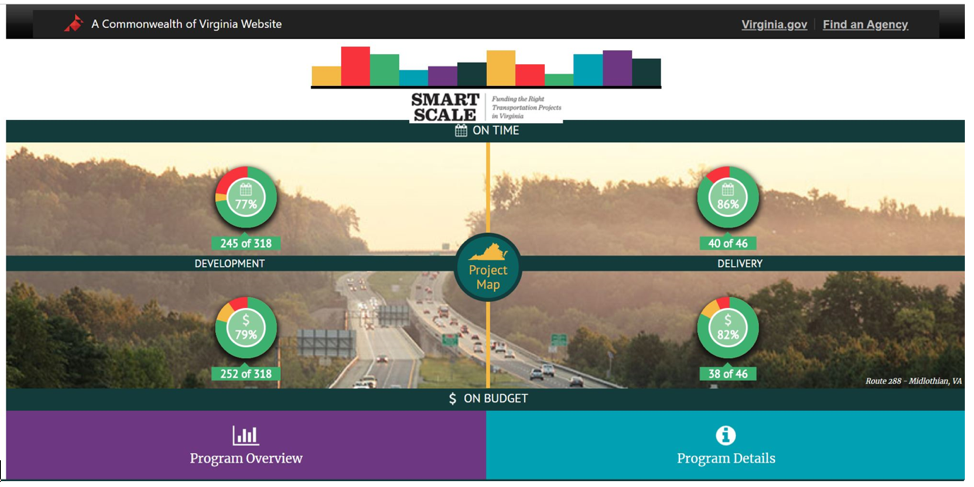 Virginia has transportation indicators to help assess progress, understand key elements that impact performance, and ensure that the transportation system is safe and efficient.
The SMART SCALE process is conducted every two years, and Round 3 of SMART SCALE began in March 2018. Once funded, our performance in executing these projects is tracked through the SMART SCALE Dashboard. Candidate projects, applications and rankings can be found on the SMART SCALE Portal.
Learn more:
Read the Smart Scale Technical Guide
Title VI Compliance: The Richmond Regional Transportation Planning Organization (RRTPO) assures that no person shall, on the grounds of race, color, national origin, income, gender, age, and disability, as provided by Title VI of the Civil Rights Act of 1964 and the Civil Rights Restoration Act of 1987 (PL 100.259), be excluded from participation in, be denied the benefits of, or be otherwise subjected to discrimination under any program or activity. The RRPDC Executive Director is responsible for ensuring the plan's implementation, for coordinating the overall administration of the Title VI Plan and assurances, and overseeing compliance with applicable nondiscrimination authorities in each of the metropolitan transportation planning and programming areas.