Hazard mitigation planning is a process undertaken to reduce loss of life and property by lessening the potential impact of future disasters.  The 22 localities of the Richmond and Crater regions work together to update the Richmond-Crater Multi-Regional Hazard Mitigation Plan every five years.  The plan identifies vulnerabilities associated with a variety of hazards and sets out long-term strategies to reduce or eliminate risks. While little can be done to wholly prevent natural hazard events from occurring, the plan helps ensure the region is poised to minimize the disruption that so often accompanies disasters, thereby increasing resilience.
Public meeting and committee workshop materials from the plan update process can be found in the side bar.  A draft plan was finalized and approved by the Virginia Department of Emergency Management and FEMA in late summer 2022.  Localities in the Richmond and Crater regions began adopting the plan in August 2022.  Links to the FEMA-approved plan and appendices can be found in the right sidebar.  A final version of the plan, including local adoption resolutions, will be posted to this page soon.
Mitigation planning helps break the cycle of disaster damage, reconstruction and repeated damage. Careful planning allows local leaders to take action before a disaster in order to reduce impacts after a disaster occurs. Putting local knowledge and expertise to use allows localities to plan, design, build and rebuilt a more resilient community in partnership with interested stakeholders, resulting in risk reduction throughout the community.
A hazard mitigation plan helps ensure:
Increased awareness of hazards, risks, and vulnerabilities
Implementation of actions that reduce risk from a variety of hazards
Resources are focused on the greatest risks
Community priorities are communicated to citizens, as well as local, state, and Federal officials
The plan examines natural hazards such as flooding, hurricanes, thunderstorms, earthquakes, and winter storms, and identifies measures localities can take to reduce the impact of these potential threats.
Approval of the hazard mitigation plan by the Federal Emergency Management Agency (FEMA) and local adoption of the plan is required by FEMA to be eligible for federal disaster relief funds. The plan must be updated and readopted by each participating community every five years for continued eligibility.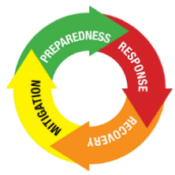 Regional Technical Committee Workshops
Hazard Mitigation Planning Process
Several elements of the mitigation planning process are critical to preparing a plan that successfully accomplishes a community's mitigation goals and encourages communities to integrate mitigation into day-to-day decision-making regarding community functions such as land-use planning, zoning, floodplain management, and site design.
Public Involvement
Effective mitigation planning includes efforts to solicit and consider input from diverse interests, and promotes discussion about creating a safer, more disaster-resilient community. Involving local stakeholders, ranging from citizens to utility providers, is essential to building community-wide support for the plan.  Public meetings throughout the planning process provide multiple opportunities for interested persons to express their concerns and provide input on mitigation actions they think may make a difference.
Hazard Identification and Risk Assessment
A critical element of any hazard mitigation plan is the Hazard Identification and Risk Assessment (HIRA).  The HIRA lays out the region's exposure (or built environment) and hazard-specific vulnerability so that mitigation strategies, activities and projects can be developed to minimize hazard risks. The HIRA includes the identification of natural hazards and risks that are likely to impact the region based on historical experience, an estimate of the frequency and magnitude of potential disasters, and an assessment of potential loss to life and property.
Capability Assessment
The capability assessment involves an evaluation of the current capacity of each community in the Region to mitigate the effects of the natural hazards identified in the HIRA.   Careful examination of local capabilities helps detect existing gaps, shortfalls, or weaknesses within ongoing government activities that could hinder proposed mitigation activities or exacerbate hazard vulnerability.  The assessment also highlights positive mitigation measures already in place or being implemented at the local and regional levels, which should continue to be supported and enhanced through future mitigation efforts.
Mitigation Strategy
Development of the mitigation strategy portion of the plan builds on the previous parts of the process to develop the final two components:  1) mitigation goals that will serve as the guiding principles for future mitigation policy and projects; and 2) proposed mitigation actions. Mitigation goals represent broad statements that are achieved through the implementation of more specific, action-oriented tasks listed in the mitigation action plan.  These actions include both hazard mitigation policies (such as the regulation of land in known hazard areas), and hazard mitigation projects that seek to address specifically targeted at-risk properties (such as the acquisition and relocation of flood-prone structures).