Your family may not be together when a disaster occurs.  Making a plan in advance will help you know how to connect or meet up with one another in different situations.
There are four important steps:
Create a Family/Household Communication Plan
Discuss the specific needs of your family or household
Fill out a Family Emergency Form
Practice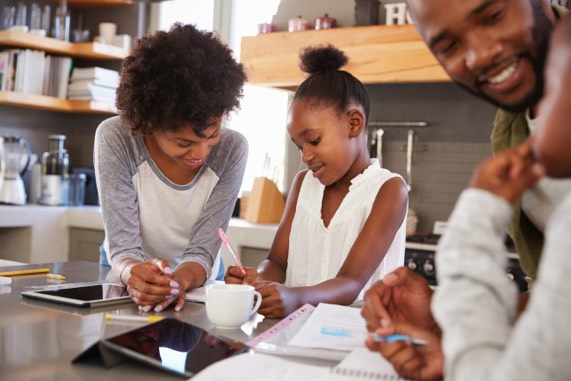 Step 1: Create a family/household communication plan
Designate an Out of Town Contact
Start by identifying an out-of-town contact for all of you to connect with during and after a disaster.  It may be easier to make a long-distance phone call, so an out-of-town contact may be in a better position to communicate with separated family members. Be sure every member of your family knows this person's phone number and has a cell phone, coins or a prepaid phone card to call the emergency contact.
If you have a cell phone, program your out-of-town contacts as "ICE" (In Case of Emergency) in your phone. If you are in an accident, emergency personnel will often check your ICE listings to contact someone you know. Make sure to tell your family and friends that you have listed them as emergency contacts.
Teach family members how to use text messaging. It is not unusual for cellular networks to become congested or disrupted during an emergency. Text messages are more likely to get through than phone calls.
Sign up for Emergency Alerts and Warnings
Step 2: Consider specific needs in your household
Tailor your plans and supplies to your specific daily living needs and responsibilities. Discuss your needs and responsibilities and how people in the network can assist each other with communication, care of children, business, pets, or specific needs like the operation of durable medical equipment. Create your own personal network for specific areas where you need assistance.  Keep in mind some these factors when developing your plan:
Different ages of members within your household
Responsibilities for assisting others
Locations frequented
Dietary needs
Medical needs including prescriptions and equipment
Disabilities or access and functional needs including devices and equipment
Languages spoken
Cultural and religious considerations
Pets or service animals
Households with school-aged children
Step 3: Fill out a Family Emergency Plan
All Family Members should have the Plan
Download and fill out a family emergency plan or use them as a guide to create your own. Emergency Plan for Parents (PDF)
Keep Emergency Contact Information in handy places (Kitchen, Office, Cars, Wallets, Mobile Phone)
Create a Shelter Plan, Evacuation Route and Designated Meeting Place
Your family may not be together if a disaster strikes, so it is important to know where to shelter. You must first consider the hazard and then choose a place in your home or other building that is safe for that hazard.  If you need to shelter in a Mass Care Shelter, remember they will only have the basics (water, food, medicine and basic sanitary facilities). You should plan to take your disaster supplies kit with you so you will have the supplies you require
Floods, fires and other disasters may require evacuation. In some cases you may have a day or two to prepare, while other situations might call for an immediate evacuation. Planning is vital to ensuring that you can evacuate quickly and safely, no matter what the circumstances.  Make sure your family has multiple routes.  Prepare for impassable or treacherous roads, downed trees or electrical wires and other challenges.  Keep a physical map in the event of loss of power or cell phone coverage.  Take your supply kit.
Designate the place or places where you will meet if you are separated.
Step 4: Practice your plan with your family/household
Step 5: Know about disasters