Introducing PlanRVA's New, Inclusive and Accessible Office Space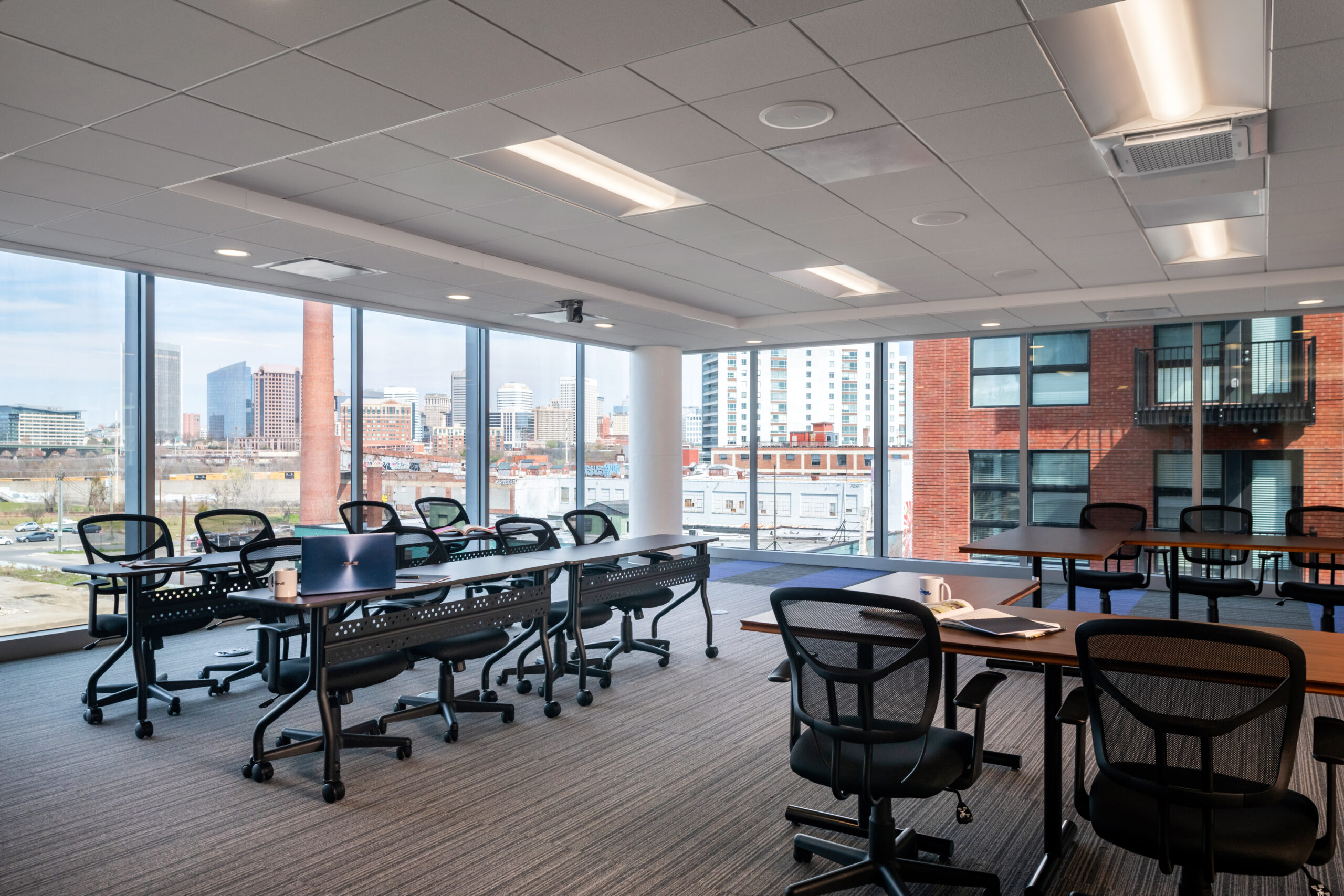 In January 2023, the PlanRVA team officially moved into their new office located in The Current, a modern mixed-use building in the Manchester neighborhood. With floor-to-ceiling windows that bathe the space in natural light and a breezy roof terrace offering stunning views of the James River and downtown Richmond skyline, the new office boasts several amenities for employees to enjoy while providing an inclusive and accessible environment for all.
Finding the office space and implementing the design was a collaborative process led by design firm Baskervill's Richmond-based team. Thalhimer Commercial Real Estate assisted in evaluating the market over a 24-month period to find a physical space that would meet the needs of the organization and its 25 employees.
Finding Strategic Solutions

Before beginning a project, the first step in Baskervill's process is getting to know their client, which began on the rooftop of Baskervill's downtown office during a creative tailgate-style meet and greet in the spring of 2020. A second workshop with every PlanRVA staff member followed the project kick-and a third working session involved board members.
"We talked with them about their goals, values and stakeholders including everyone from board members and staff members to guests and even delivery drivers," said Susan Orange, Principal and Director of Workplace Strategies at Baskervill. "Involving everyone on the team from the beginning not only helped streamline the process, but PlanRVA's staff felt they were part of every decision and had a stake in the game. These initial conversations are so important and provide a foundation for planning."
PlanRVA also worked with Matthew Shapiro of 6 Wheels Consulting to make sure the space was inclusive and accessible beyond the minimum ADA compliance standards.
Encouraging Collaboration and Initiating Inclusion
Collaboration, accessibility and inclusion are core values staff members identified when reflecting on PlanRVA's workplace culture. The goal was to represent these throughout a new and functional space.
"Staff members needed flexibility. They wanted an open environment that would initiate collaboration and engagement, but they also needed quiet focus areas for privacy," said Orange. "The new layout accomplishes just that and makes guests immediately feel at home when walking through the front door."
From the neighborhood location to the carpet color system, each element of the office was chosen with intention and to reflect PlanRVA's core values. A few highlights include:
A multi-modal and transit friendly location.
The 8,610-square foot office space is located in Richmond's fast-growing Manchester neighborhood and is in close proximity to multiple bus stops and access to nearby bike and pedestrian trails, adding to its convenient highway accessibility. Street parking is widely available and The Current offers showers and a bike storage room for tenants.
Natural light and stunning views.
The design of the office allows natural light to flood each room – a benefit that reduces fatigue and increases productivity, according to Orange. Employees and guests also have access to a rooftop Terrace that overlooks the James River and Richmond skyline.
Details designed for inclusion.
There are carpet changes at major points of transitions from corridors to conference rooms to individual offices and the layout was designed with zero thresholds, meaning there are no obstacles or bumps when moving from space to space.
"Carpet changes can often help with identification of space transitions and is a helpful way-finding cue," said Orange. "We use changes in flooring, or walls for that matter, to change the perception of corridors making them appear wider and/or shorter."
Accessible co-workspaces.
The kitchen space includes a high-top table with a low-top attachment to accommodate people who use a wheelchair and provides a casual space for meetings or impromptu conversations. Through the kitchen is a large conference room that can seat up to 100 people for larger gatherings and additional rooms to hold smaller groups.
A transition-less entrance.
Unlike other office spaces, PlanRVA doesn't have a lobby or receptionist. Instead, guests are greeted with hospitality and an immediate sense of community, office culture and an understanding of who PlanRVA serves.
"There are no borders in PlanRVA's office and that's my favorite thing about the space," said Orange.
In a seating area near the front entrance, a staff-driven mural called "Better Together" shows off the James River and the Atlantic sturgeon that live in its waters, representing the spirit of the region and PlanRVA's goal of a sustainable future. The mural is a collaboration between PlanRVA, Art & Innovation Studio Another Limited Rebellion and guests. Similar to a paint-by-numbers, the mural encourages guests to place small stickers to corresponding numbered areas, adding color to the piece. "Better Together" was designed by Kelsea Dvorak and inspired by the sticker creations of Richmond artist Noah Scalin, founder of Another Limited Rebellion. PlanRVA staff worked with Another Limited Rebellion during two creative planning sessions to develop the concept.
On January 12, PlanRVA's Public Outreach and Engagement Committee welcomed members of the Commission and the three regional organizations they support, the Central Virginia Transportation Authority, the Emergency Management Alliance of Central Virginia and the Richmond Regional Transportation Planning Organization to the new space during a First Look event with opportunity to network with our partners who made the development of the space possible.
Subscribe to The Better Together Connector
Sign up to receive The Better Together Connector, a quarterly e-newsletter designed to highlight the latest efforts, successes and a look ahead from PlanRVA, the Central Virginia Transportation Authority, the Richmond Transportation Planning Organization, and the Emergency Management Alliance of Central Virginia.