Don't Trash Central Virginia
PlanRVA is partnering with localities in the Richmond region to promote litter prevention.  The Don't Trash Campaign unites localities in Central Virginia in a fight against litter.  The goals of the campaign are to increase awareness of litter and its negative impacts in the community, build knowledge about litter prevention strategies, and encourage action through participation in public clean-up opportunities.
The Campaign welcomes businesses and organizations as campaign partners who share the vision of a litter-free Central Virginia.  Join our effort to dump the financial and environmental costs that come with litter.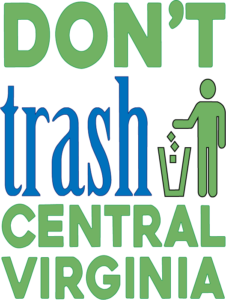 We welcome you to learn more about the partnership, the impacts of litter, and the difference you can make.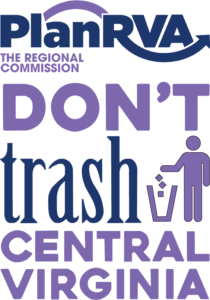 This project, Task # 48 was funded in part by the Virginia Coastal Zone Management Program led by the Virginia Department of Environmental Quality through Grant FY20 #NA20NOS4190207 of the US Department of Commerce, National Oceanic, and Atmospheric Administration, under the Coastal Zone Management Act of 1972, as amended. The views expressed herein are those of the authors and do not necessarily reflect the views of the US Department of Commerce, NOAA, or any of its subagencies.